---
UltraProof - liquid water repellent for walls
The best treatment for external masonry, brick, stone and render. Applied in a single flood brush or spray coat, it forms an invisible (to the naked eye) layer just below the surface of the masonry, repelling moisture but allowing the wall to breathe through its micro-pores.
Firstly, check the outside of the building for rainwater penetration - if the walls are absorbing moisture apply a water repellent - UltraProof
UltraProof benefits are as follows;
Water based
Non-flanmmable
Ultra low odour
Only need one coat for full protection
Brush or spray on
Clean glass with a damp cloth
Does not deteriorate if used on new pointing or render (unlike some silicones)
Breathes
Non-staining
Can also be used as a Primer/Sealer on damp floors, and to eliminate dusting from concrete floors.
Available in 5 litre and 25 litre cans, ready to use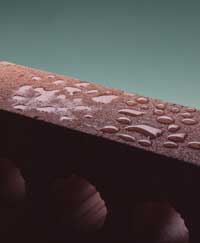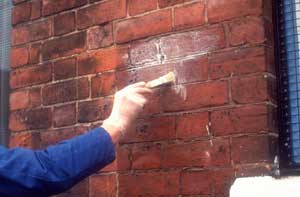 Droplets - left side, no repellent. Brushing on Ultra Proof - dries clear.
Cream and liquid types available.
---
Home | Damp | Plastering | Membrane | Damp Meters | Anti-Mould Additives
| Privacy Policy | Returns Policy | Contact
---
Use any of our Shopping Pages to place goods in your Shopping Basket - they all use the same Shopping Cart system.

Click to view your Shopping Basket
or continue shopping by clicking on one of our Shops below.
OUR SHOPPING PAGES
---
Property Repair Systems

T: 01626 872886

E: Mail us help@propertyrepairsystems.co.uk
---
Site written by: David Moore
David Moore, B.A. (Hons.), C.T.I.S., C.R.D.S. Technical Author
Google+
---
Other Property Repair Systems Sites:

www.boron.org.uk - how to use Boron based insecticides/fungicides to treat timber rots and insect attack

www.deck-treatment.co.uk - how to treat patio decks and yacht decks

www.dryrot.biz - how to kill Dry Rot in buildings

www.drywallandfloor.co.uk - membranes for lining damp walls, floors, basements and cellars

www.epoxy-info.co.uk - resins for repairing and sealing all types of masonry

www.fire-door-paint.co.uk - upgrade doors to 30 minutes fire resistance

www.joist-repair.co.uk - how to quickly repair joists and beams of any size

www.propertyrepairsystems.co.uk - our Home Site

www.steel-fire-paint.co.uk - treat steel with Intumescent Paint to provide fire protection

www.timber.org.uk - systems of repair, with step by step methods

www.timber-repair.co.uk - how to repair timber beams

www.woodworm-info.co.uk - how to kill and prevent woodworm and death watch beetle

www.woodworm-expert-advice-forum.org.uk - all your questions and our answers about woodworm treatment DIY
---