---
VILLA DAMPNESS PROBLEMS
The Mediterranean construction method, (concrete frame with rendered hollow block infill panels), suffers from four main problems. We have simple, effective Guaranteed solutions for you or your local Builder to apply. We are Qualified Surveyors in dampness in buildings. We offer free advice by telephone and E Mail.
1. Black Mold on walls - wash down with our Mold Cleanser, use our Stain Blocking Paint where necessary, then re-paint with our Anti-Mold Additive in your paint. Guaranteed for 5 years. Add 'trickle vents' to window frames, or install a Dehumidifier.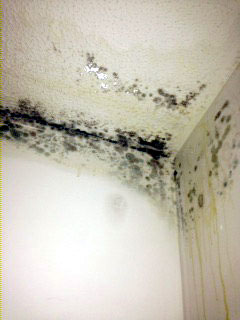 2. White Salts on walls - fluffy white salts can be neutralised using our Salt Neutraliser, if the plaster itself is not damaged. Do not confuse with powdery, outdoor Lime deposits.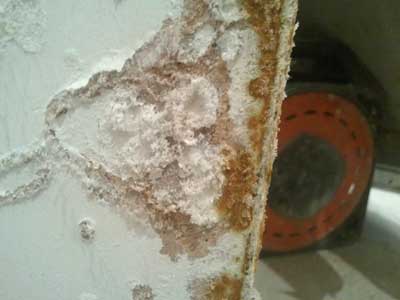 3. Plaster damage, repairs - bubbling, scaling, flaking plaster or render needs to be removed to at least 300mm clear in all directions of the damp area, using a Damp Meter to check for the furthest extent of readings. Replaster to our Specification in sand and cement, finished with Multi-Finish, using Renderproof in the water.
4. Plaster damage, replacement - instead of sand and cement, particularly where washed, sharp sand is hard to find, you can fit Mesh Membrane. This plastic, dimpled material is fixed to the wall with plastic sealed plugs and can be directly plastered with any type of plaster or render. The new surface is then completely protected from future problems. Guaranteed for 20 years.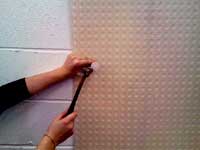 5. Damp at the wall base - usually caused by rainwater splash up and penetrating damp. You need to seal the wall at the base joints (floor to wall crack) using Fillet Seal. Then the outside wall needs to be 'tanked' using tanking slurry - Bondacryl mixed with fresh cement.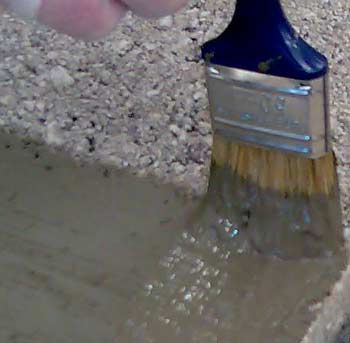 6. Damp Proof Course - damp proofing UltraCure cream should be injected above the splash up zone, say 250mm (10 inches) above external ground level.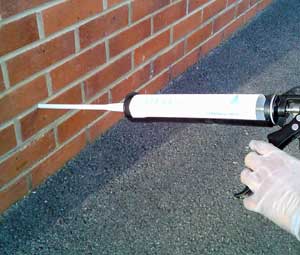 7. Damp Meter - essential to check damp patterns and sources in masonry and timber. We supply Damp Meter advice and help you with analysis to solve your specific problems.

8. Humidity Meter (electronic hygrometer) - measure the amount of moisture in the air inside your building and control the level using ventilation or heating, or use a dehumidifier.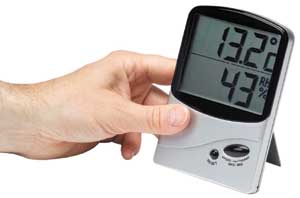 Quick Cream - specification
---
We can supply the easiest to use Professional and DIY damp proofing cream on the market.
3 SIMPLE STEPS DPC - click here for photos
New, easy to install, cream product - no pump required, no mess, no smell - includes injection nozzle extension.
A 'damp meter' and surface thermometer (see www.dampness-info.co.uk/meters.htm)are useful tools for this diagnosis - if not available use the back of your hand to assess the relative dampness of one affected area to another unaffected area..
British Board of Agrèment - BBA Test Certificate No: 02/3961 - as used by the professionals. The BBA is a Government Approved organisation which has been testing building materials for over 30 years. Note - not all damp proofing materials have passed these tests - beware of cheap imitations).
click here for a check list if you want to diagnose your damp
click here if you would like to read a genuine testimonial
---
Quick Cream - sizes
380cc tube with extension nozzle - makes a maximum of 3.5 metres/11 feet of damp proof course in single thickness masonry (spacing interval 120mm/4.5 inch walls). Can be applied with a DIY, standard 380cc version mastic/sealant gun or a professional 380cc skeleton gun (see our Order Form)
1000cc tube with extension nozzle - makes a maximum of 9 metres/30 feet of damp proof course in single thickness masonry (spacing interval 120mm/4.5 inch walls). Requires a professional 1000cc skeleton gun (see our Order Form)
3 litre bulk pack, for professionals - makes a maximum of 27 metres/90 feet of damp proof course in single thickness masonry (spacing interval 120mm/4.5 inch walls). Requires a pump up dispenser.
---
Optional products:
- Replastering Additive (Rendapruf)
- 'Tanking' waterproofing liquid (Bondacryl)
- Certificate of Product Guarantee
- Professional Skeleton Guns
- Professional Extension Tube (1000cc)
---
Read about damp
.Quick DIY Master Class in Dampness and Condensation Become your own Expert in 1 hour! Buy our "Dampness in Buildings" reprinted book by the great expert Graham Coleman. A great read, short and to the point.
Click here to buy the reprint.
---
Home | Damp | Plastering | Membrane | Damp Meters | Anti-Mould Additives
| Privacy Policy | Returns Policy | Contact
---
Use any of our Shopping Pages to place goods in your Shopping Basket - they all use the same Shopping Cart system.

Click to view your Shopping Basket
or continue shopping by clicking on one of our Shops below.
OUR SHOPPING PAGES
---
Property Repair Systems

T: 01626 872886

E: Mail us help@propertyrepairsystems.co.uk
---
Site written by: David Moore
David Moore, B.A. (Hons.), C.T.I.S., C.R.D.S. Technical Author
Google+
---
Other Property Repair Systems Sites:

www.boron.org.uk - how to use Boron based insecticides/fungicides to treat timber rots and insect attack

www.deck-treatment.co.uk - how to treat patio decks and yacht decks

www.dryrot.biz - how to kill Dry Rot in buildings

www.drywallandfloor.co.uk - membranes for lining damp walls, floors, basements and cellars

www.epoxy-info.co.uk - resins for repairing and sealing all types of masonry

www.fire-door-paint.co.uk - upgrade doors to 30 minutes fire resistance

www.joist-repair.co.uk - how to quickly repair joists and beams of any size

www.propertyrepairsystems.co.uk - our Home Site

www.steel-fire-paint.co.uk - treat steel with Intumescent Paint to provide fire protection

www.timber.org.uk - systems of repair, with step by step methods

www.timber-repair.co.uk - how to repair timber beams

www.woodworm-info.co.uk - how to kill and prevent woodworm and death watch beetle

www.woodworm-expert-advice-forum.org.uk - all your questions and our answers about woodworm treatment DIY
---