---
Black Spot Mould Specialists - mold treatments and condensation advice
How to stop Black Mold Growth in the home.
1. Apply Surface Cleanser to the wall with a sponge - allow to dry
2. Apply one or two coats of Stain and Damp Primer, to prevent show through of residual stain markings.
3. Add the AntiMould Paint Additive to your chosen paint and apply as usual
4. Use a Condensation Monitor called a Home Humidity Meter to measure the moisture in the air in your house. Keep the moisture reading between 55% and 65% to avoid Condensation. Ask us for help in using this simple tool to keep your decorations and health in good order.
Severe Black Mould - it only growths in the pure water condensing from the air.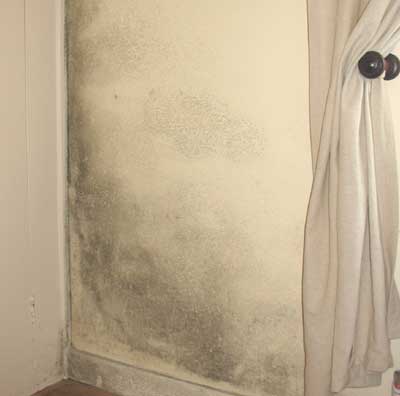 Less severe Black Mould - patterns of mould indicate the surface temperature differences.
---
How to stop Condensation in the home
1. Buy our Dehumidifier - it has the running costs of a Fridge and as well as removing moisture it provides some background warmth.
2. Fit our Trickle Vents to your Double Glazed window frames.
3. Or for Houses, consider a Loft Mounted Fan, known as a Positive Pressure ventilation system
4. Or for Flats, consider a Heat Recovery Fan, which has a ceramic heat exchanger, to minimise energy loss.
4. Then use a Home Condensation Monitor to measure the moisture in the air in your house. Keep the moisture reading between 55% and 65% to avoid Condensation. Ask us for help in using this simple tool to keep your decorations and health in good order.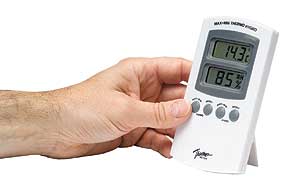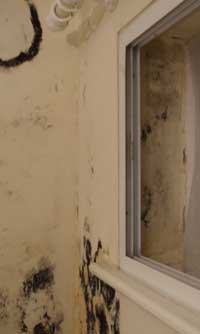 Black mould is often associated with cold corners
---
Complete Anti Mould Kit available -
1 x Surface Cleanser (makes 5 litres)
2 x Paint Additives (enough for 5 litres of paint)
or buy the products separately.
---
Data Sheet for Surface Cleanser - click here
Data Sheet for AntiMould Paint Additive - click here
---
Test the walls of the building with our Condensation Test Kit and look for evidence of mold - usually 'black spot' - this indicates that you have Condensation forming on the coldest surfaces in the room. Unless you can increase ventilation and heating, consider using our Anti-Mold Paint Additive or Anti-Mould Emulsion Paint - guaranteed for 5 years!
If necessary, treat all plaster with the anti-mold treatment supplied with the paint and then redecorate.
Measure the amount of Moisture in the Air
Use our Hygrometer to monitor the conditions in each affected room and use the Memory function to check the exact conditions overnight, the time when temperature falls and condensation is most likely. This meter helps you to control the conditions that cause condensation and to monitor the use of your heating, ventilation and dehumidification.
Available in standard and large display versions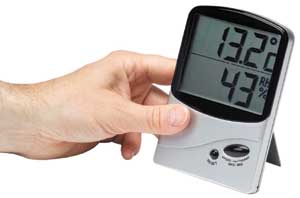 ---
How to test damp walls and timbers
Condensation forms on the coldest parts of your walls, floors and ceilings. If damp is entering from the outside or from a water leak it will make the damp areas colder and more prone to condensation, hence mould growth.
Firstly, check the outside of the building for rainwater penetration - if the walls are absorbing moisture apply a water repellent - Dampseal - check your downpipes and gutters.
Click here to see the Data Sheet for the Damp Testing Meter
Click here to see a Quick Guide to understanding the readings from a Damp testing Meter - Front Page
Click here for Quick Guide Back Page
Self Help - Diagnosing your damp:
---
Damp testing meter - click to buy
A sturdy conductivity type meter with pins, ideal for testing masonry (brick, stone, plaster) and timber (skirting boards, floors) to give an indication of 'relative' dampness. Always use Meters to compare like materials, never to give absolute moisture readings.
Benefits are as follows;
Pocket sized
As used by the 'professionals'
Battery powered
Direct visual reading

Can also be used to test damp floors and new concrete floors.
(We also sell the Protimeter Range of products, including the Surveymaster. These are Professional instruments, starting at over £100 plus VAT for the basic model.)
---
Summary of mold or mould facts
Mould growth is caused by Condensation forming on the surface or inside the building material
Condensation is caused by high levels of moisture in the air condensing on the coldest surfaces in the room, often at night when the temperature falls
Surfaces will be colder if they are damp - rising and penetrating dampness, blocked wall cavities or lack of them, can all increase dampness
Dampness can be caused by common defects, like blocked gutters overflowing, poor pointing, cracked external render.
Testing wood for moisture content - at over 18-20% wood can begin to rot
For immediate help (in office hours) ring our dedicated team of Experts
David, Angela or Kathy will help to diagnose your dampness problem FREE.
Ring them on 01626 872886 or use our special MOULD CHECKLIST by clicking here.
---
Home | Damp | Plastering | Membrane | Damp Meters | Anti-Mould Additives
| Privacy Policy | Returns Policy | Contact
---
Use any of our Shopping Pages to place goods in your Shopping Basket - they all use the same Shopping Cart system.

Click to view your Shopping Basket
or continue shopping by clicking on one of our Shops below.
OUR SHOPPING PAGES
---
Property Repair Systems

T: 01626 872886

E: Mail us help@propertyrepairsystems.co.uk
---
Site written by: David Moore
David Moore, B.A. (Hons.), C.T.I.S., C.R.D.S. Technical Author
Google+
---
Other Property Repair Systems Sites:

www.boron.org.uk - how to use Boron based insecticides/fungicides to treat timber rots and insect attack

www.deck-treatment.co.uk - how to treat patio decks and yacht decks

www.dryrot.biz - how to kill Dry Rot in buildings

www.drywallandfloor.co.uk - membranes for lining damp walls, floors, basements and cellars

www.epoxy-info.co.uk - resins for repairing and sealing all types of masonry

www.fire-door-paint.co.uk - upgrade doors to 30 minutes fire resistance

www.joist-repair.co.uk - how to quickly repair joists and beams of any size

www.propertyrepairsystems.co.uk - our Home Site

www.steel-fire-paint.co.uk - treat steel with Intumescent Paint to provide fire protection

www.timber.org.uk - systems of repair, with step by step methods

www.timber-repair.co.uk - how to repair timber beams

www.woodworm-info.co.uk - how to kill and prevent woodworm and death watch beetle

www.woodworm-expert-advice-forum.org.uk - all your questions and our answers about woodworm treatment DIY
---