How to Tank damp walls - Order and Free Technical Help - 01626 331351 - Kathy, David or Angela answers your call - discuss your building problem with a Qualified Dampness Expert (C.R.D.S.)
Hydradry Tanking Slurry
Professional & DIY - cement based - easy to apply, just add water, BBA Certificate.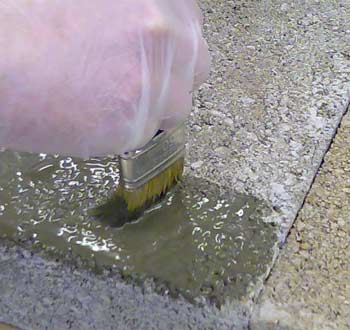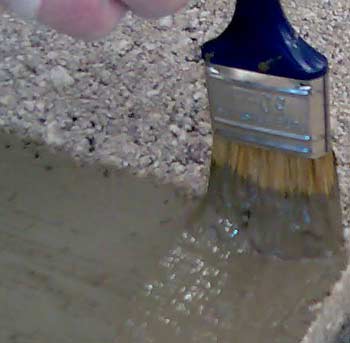 Brush Tanking Slurry onto a damp surface with a brush, second coat brushed at 90 degrees.
As used by the Trade - rapid drying, easy to apply
1. Cellars, basements, below DPC
2. Easy to brush apply
3. No smell, no vapour, plaster over
---
Packaging - powder is supplied in a 25kgs plastic bucket
Application - damp wall, use brush, two coats
Sizes - 25kgs
How to calculate use - allow 8-10 square metres per coat per 25kgs, 3-4 sq.m for two coats.
Limitations - not suitable to apply to surfaces that have water actively weeping or running through them at the time of coating.
Note - if you have running water or weeping requires relief holes and/or a sump, in order to allow the Tanking Slurry to fully cure with no risk of damage. For small holes or weeps use our Rapid Plug material, before Tanking.
---
Joint Filling Mix - Fillet Seal
You will need to cut out the joint around the floor up against the wall. This can then be filled with a waterproof mortar - Fillet Seal.
Note - when installing a Damp Proof Course, which should be positioned at least 6 inches (150mm) above outside ground level, you may need to apply Tanking Slurry to any area inside the building where the new damp course will be above floor level. This avoids dampness behind the plaster and skirting boards causing damage. If you are finishing down to a solid (concrete) floor you will need to rake out the floor to wall joint and fill with a waterproof grout made of BondAcryl and sand/cement mix at 4:1. This will seal the high vapour pressure area and should join with the under floor membrane (usually plastic) and the new Tanking Slurry wall membrane.
Go straight to Price List and Order Form
.
---
Home | Damp| Plastering | Membrane | Damp Meters | Anti-Mould Additives | Privacy Policy|
---
Property Repair Systems
Unit 3, Olympus Business Park, Kingsteignton Road Newton Abbot, Devon, TQ12 2SN
T: 01626 331351 F: 01626 331143
E: help@propertyrepairsystems.co.uk
---
Other Property Repair Systems Sites:
www.boron.org.uk - how to use Boron based insecticides/fungicides to treat timber rots and insect attack

www.deck-treatment.co.uk - how to treat patio decks and yacht decks

www.dryrot.biz - how to kill Dry Rot in buildings

www.drywallandfloor.co.uk - membranes for lining damp walls, floors, basements and cellars

www.epoxy-info.co.uk - epoxy resins for repairing wood, concrete, brick and stone

www.fire-door-paint.co.uk - upgrade doors to 30 minutes fire resistance

www.joist-repair.co.uk - how to quickly repair joists and beams of any size

www.propertyrepairsystems.co.uk - our Home Site

www.steel-fire-paint.co.uk - treat steel with Intumescent Paint to provide fire protection

www.timber.org.uk - systems of repair, with step by step methods

www.timber-repair.co.uk - how to repair timber beams

www.woodworm-info.co.uk - how to kill and prevent woodworm and death watch beetle

www.woodworm-expert-advice-forum.org.uk - all your questions and our answers about woodworm treatment DIY
---